Good news, biyaHERO!
Please be informed that Montenegro Lines Inc., will resume their trips in these following routes:
1. CORON - CULION
6AM Coron - Culion
2PM Coron - Culion
2. CULION - CORON
8AM Culion - Coron
4PM Culion - Coron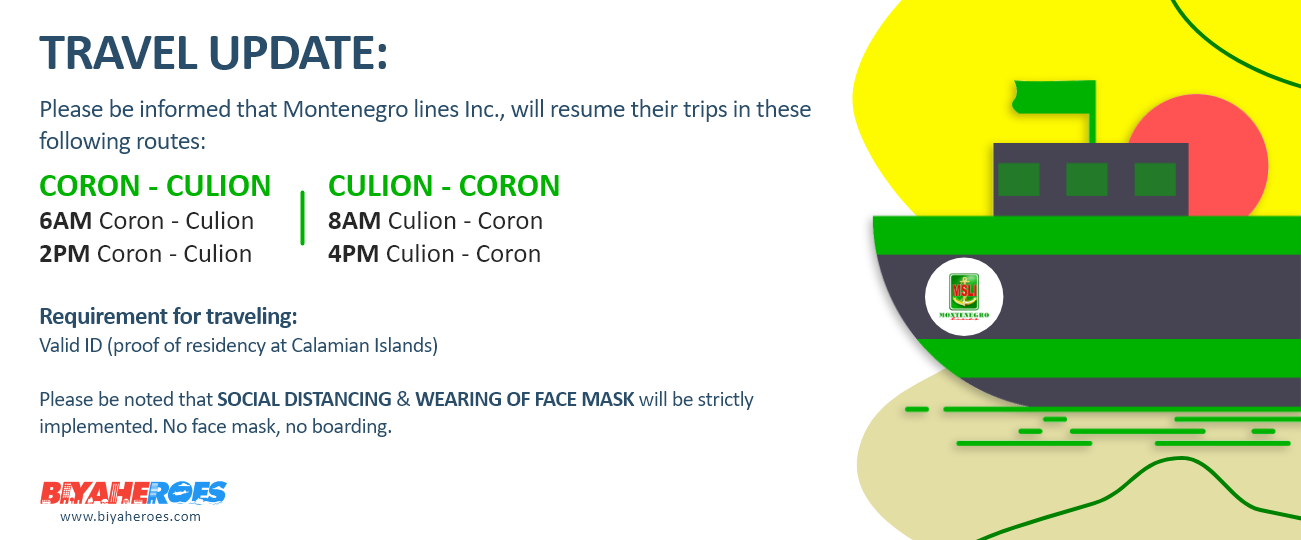 Avoid exposure by booking your trips online at biyaheroes.com and pay your trips via our online payment options.
Go to biyaheroes.com then book your ferry tickets.
Pay your reservation through our online payment option. (Payment centers and malls are still available, but we recommend you do digital transactions instead)
Go to the terminal on your departure date with your confirmation voucher.
Enjoy a safe, digital booking experience for your bus ride as our transport partners follow the health and safety protocols from the government.
Requirement for traveling:
Valid ID (proof of residency at Calamian Islands)
Please note that SOCIAL DISTANCING and WEARING OF FACE MASK will be strictly implemented. No face mask, no boarding.
Passenger Fare:
Regular Fare - 390.00
Student Fare - 332.00
Senior Citizen - 279.00
Children (3-7 yrs old) - 195.00