Good news, biyaHERO!
Please be informed that Bunso Transport will resume their trip on June 8, 2020 onwards for Coron-Mindoro passenger trips every Monday. No Mindoro-Coron passenger trips are allowed in compliance with the latest mandate from Mindoro LGU.
Avoid exposure by booking your trips online at biyaheroes.com and pay your trips via our online payment options.
Go to biyaheroes.com then book your ferry/boat tickets.
Pay your reservation through our online payment option. (Payment centers and malls are still available, but we recommend you do digital transactions instead)
If you are travelling from Coron, you need to visit the municipal hall to register and acquire the other requirements.
Go to the port on your departure date with your confirmation voucher.
Enjoy a safe, digital booking experience for your bus ride as our transport partners follow the health and safety protocols from the government.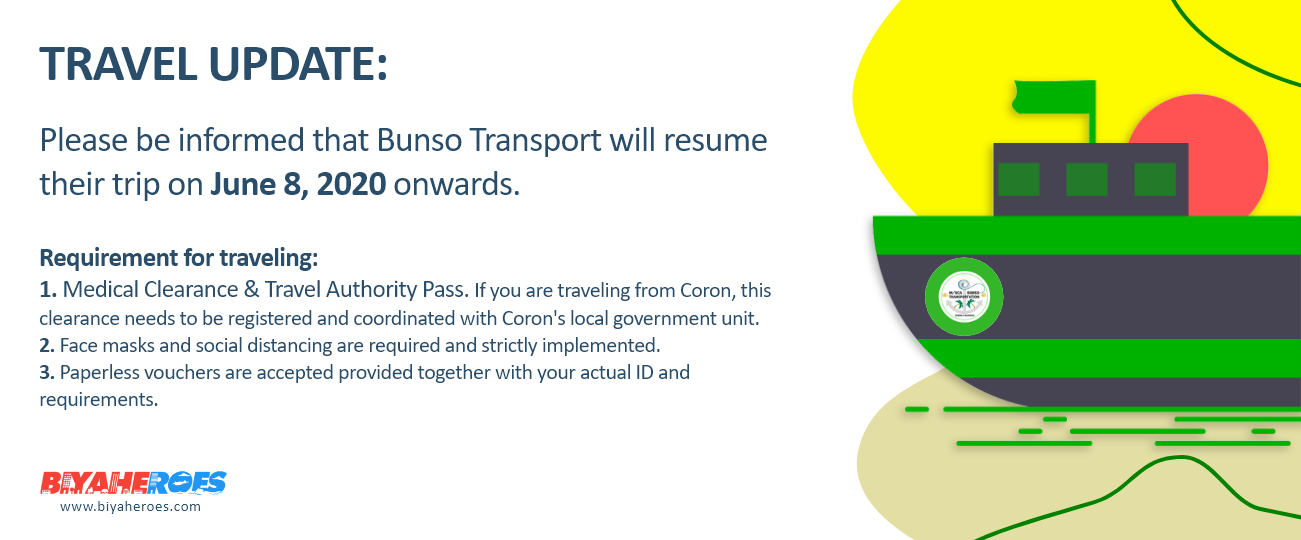 Additional requirements for Coron-Mindoro passengers;
After booking your tickets online, please proceed to the Coron municipal hall for additional clearance requirements. This will include listing your details down for contact tracing, getting a medical clearance, and a travel authority. These requirements must be completed in order to be qualified for boarding.  
Face masks and social distancing are required and strictly implemented.  - Paperless vouchers are accepted provided together with your actual ID and requirements.